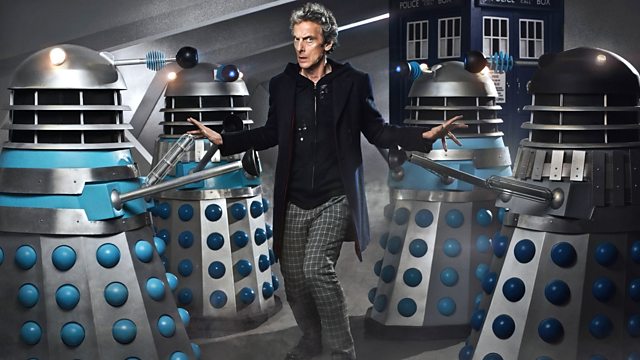 Today brings the second episode in the series, The Witch's Familiar (
Trapped and alone in a terrifying Dalek city, the Doctor is at the heart of an evil Empire: no sonic, no TARDIS, nobody to help. With his greatest temptation before him, can the Doctor resist? And will there be mercy
) on BBC One at 19:45, my roundup of the episode will be going live tomorrow as usual.
Today's best Whovian links (full marks to the Radio Times for their prodigious posting)...
Doctor Who: exclusive The Witch's Familiar poster revealed
Doctor Who: Jenna Coleman interview on leaving the BBC show | EW.com
Peter Capaldi and Steven Moffat "ambushed" Jenna Coleman to convince her to stay in Doctor Who
Peter Capaldi: You can be typecast as The Doctor in less than three series
Michelle Gomez: "I'm being thoroughly rejected in America"
Will Peter Capaldi be back for Doctor Who series 10? He and Steven Moffat have fun skirting around the issue...
Russell T Davies: "Every single Dalek is cleverer than all of us put together"
The new 'Doctor Who' companion: 5 things we want to see
The first script Peter Capaldi ever saw was for Doctor Who
Are we all becoming Cybermen?
Peter Capaldi: I've been playing Doctor Who all my life
Charlie Higson: Russell T Davies' Doctor Who revival made fantasy drama popular again
In Print Comic: Who's Cat 10 - Mike Key
Whovian Reviews
Audio who 6th Doctor Last Adventure Special
Doctor Who: The Last Adventure Tribute
Whovian Events
Dimensions 2015 ------- Newcastle 16th October 2015
Doctor Who Podcasts
(warning some may not be suitable for children)
EP 31: SPECIAL EDITION - The Handcock Tapes
#33. Two Fat People in a Pub, Gyrating
The Untempered Schism
Hello Tweetie
MichelleGomez on Twitter
British Bake Off on Twitter
Abi Mai Humphries on Twitter
Outside the TARDIS
Rebecca Root: "I'd love to be the first transgender Doctor Who"
The Light of September Trailer
'The battle for the BBC is lost' warns former Doctor Who showrunner Russell T Davies
Little Shop
Doctor Who: Deluxe Action Figure: 12th Doctor
Doctor Who: Time Lord Fairy Tales (Hardciver)